Here's the book you've been waiting to have at your fingertips! For each of the Lifelong Guidelines and LIFESKILLS, you get a description of it, why practice it, how to practice it, what it looks like in the real world, what it looks like in school, inquiries to develop it, signs of its success, and links to related literature to use with students grades K-12. Can be used as a stand-alone character education program or as an HET resource. (300+ pp.) $34.95
This set includes the Lifelong Guidelines poster (12" x 18"), posters for each of the 19 LIFESKILLS (8.5"x 11") , ,and the single LIFEGUIDE poster with definitions (18"x 24"). LIFESKILLS include such traits as Cooperation, Responsibility, Initiative, Problem-Solving, etc. Artwork is whimsical, action oriented, and multi-ethnic. $34.95
LIFESKILLS & Lifelong Guidelines Wall Posters – Animal Design Set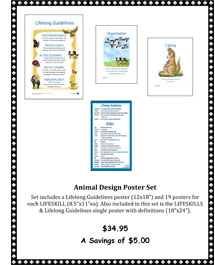 Your class will enjoy the playful animals depicting each of the 19 LIFESKILLS. The set includes the Lifelong Guidelines poster (12"x18"), the 19 LIFESKILLS posters for each LIFESKILL (8.5" x 11) and the single LifeGuide poster with definitions (18"x 24"). $34.95
________________________
LIFESKILLS / Lifelong Guidelines Single Poster
If you like our LIFESKILLS magnets, you'll love the new summary poster! It includes both the Lifelong Guidelines and LIFESKILLS with their definitions—all on one 18" x 24" glossy poster. Display it in the hallway, office, lunchroom, classroom, or at home. $15.00
________________________
LIFESKILLS Package Special with Animal Design
________________________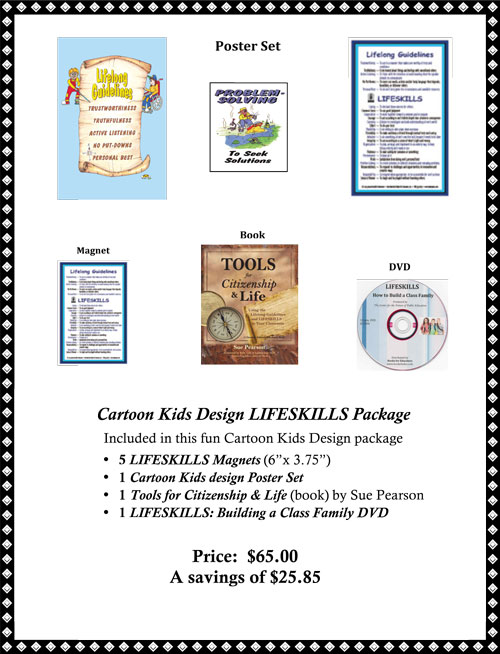 LIFESKILLS Package Special with Cartoon Kids Design
________________________
LIFESKILLS Magnet
Display the Lifelong Guidelines and LIFESKILLS in your classroom or at home for handy reference with this attractive post-card size magnet. Every teacher and family will want one. They make great appreciation gifts for students, volunteers, guests, and school board members. $1.60 each (3.75" x 6")
________________________
HET (Highly Effective Teaching)
5th Edition of Exceeding Expectations is out of print!
6th Edition available Spring of 2021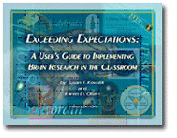 EXCEEDING EXPECTATIONS: A User's Guide to Implementing Brain Research in the Classroom, 5th Ed.
by Susan J. Kovalik & Karen D. Olsen
This 6th edition of Exceeding Expectations isn't just another update. It's a re-conceptualization of the Highly Effective Teaching Model that reflects lessons learned over the past 35 years of implementing and coaching HET and a review of recent brain research findings. Changes include a more integrated discussion of how to develop curriculum and select learning strategies based on brain research findings, especially the new brain-based definition of learning as a process that occurs in four-phases.
As we emerge from our covid nightmare and need more powerful ways to help students catch up and re-engage, there is no better companion to stimulate our thinking than this book.

________________________
Kid's Eye View of Science: A Conceptual, Integrated Approach to Teaching Science
by Susan J. Kovalik & Karen D. Olsen
Kid's Eye View of Science examines learning science from multiple perspectives—especially a child's. The book guides readers through the steps of igniting students' natural sense of wonder, incorporating brain research, integrating science concepts with other subjects, and applying science to daily life. (280 pp.) $44.95
________________________
What Brain Research Can Teach Us About Cutting School Budgets
by Karen D. Olsen
This book boldly asserts that brain research should be applied wherever human brains are working—that not only can and should brain research inform how and what we teach in the classroom, it should be brought to bear in boardrooms and the school budgeting process as well. What Brain Research Can Teach About Cutting School Budgets offers principals, teacher leaders, and district staff a step-by-step process for applying the principles of how students learn to the budgeting process. The process applies equally well to deliberations to add funding or to cut it. The end result? Improved student outcomes.
Starting with a strategy-builder chart, this book:
Offers action items for putting the strategies into practice
Helps leaders determine where money should be be cut or, in better times, reinvested or reallocated
Provides specific tips for working within a group decision-making setting
Includes more than 30 analytical charts to aid in gathering needed information
$36.95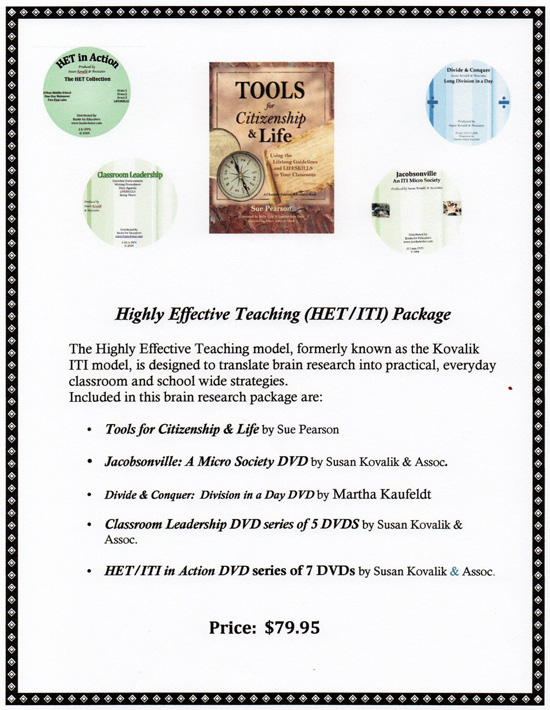 HET Package Special
________________________
HET (Highly Effective Teaching) DVDs
HET in Action – DVD
A wonderful resource for professional development trainings or for personal teacher use. This 2-hour DVD is a compilation of seven ITI/ HET DVDs. $39.95
Included are:
HET/ITI Stages of Implementation: Stage 1 - First Things First
In this video, you'll see the first steps in setting up an HET classroom. It will answer your practical questions about the physical layout of the room, beginning curriculum and instructional strategies, how to invite parents into the program, and what you can expect students to accomplish. (28 mins.)
HET/ITI Stages of Implementation: Stage 2 - Intelligence As a Function of Experience
Intelligence is a function of experience! Learning is the result of actual physiological growth in the brain, best achieved through massive sensory input. Such experiences enable students with little or no prior experience to catch up with advantaged peers and helps all students increase their understanding and use of concepts and skills. Watch how it can be done. (14 mins.)
HET/ITI Stages of Implementation: Stage 3 - Creating Conceptual Curriculum
See how a conceptual curriculum is powerful, meaningful, and allows students to predict and generalize. In this video, 5th- and 6th-grade students learn from interaction with guest speakers, being there experiences, and skill integration. Watch as they internalize the meaning of responsibility for one's own learning. This is HET in action! (25 mins.)
LIFESKILLS: Creating a Class Family
Research conclusively shows that building a sense of community in the classroom accelerates learning as well as social/personal growth. Join this two-teacher team and their 60 students, grades 4–6, for a look at what a multi-age HET class family looks like and how to create one in your own classroom. (17 mins.)
One-Day Makeover for Your HET/ITI Classroom
Join veteran ITI teacher/administrator, Dottie Brown, as she transforms a stark classroom into a body brain-compatible learning space. Listen and watch as she analyzes the function for each space and decides how to arrange furniture to meet that need. See the simple strategies she uses so that the classroom promotes cooperation, looks beautiful, is calming and focused, and reflects the topic under study. She did it in one day and so can you! (14 mins.)
HET/ITI in the Urban Middle School
What makes students want to come to school? HET, with its conceptually based curriculum, provides the means for engaging a wide range of students in powerful learning where they can be successful. Join Nicole McNeil-Miller and her Kansas City, MO classroom as she demonstrates the power of providing a safe, predictable, caring, and respectful learning environment. (15 min.)
PawPaw Lake
See a political action project unfold.
________________________
Classroom Leadership Series – DVD



This series of five DVDs provides an invaluable look at the nitty-gritty how to's for setting up a classroom, kicking off the first day, and leading (rather than "managing") a classroom using the HET/ITI model. Total playing time, 97 mins. $39.95

Included are:
Daily Agenda – DVD
Followers are better able to follow their leader if the journey is clear to all. The Daily Agenda helps both teacher and students organize, manage time, and create an environment with consistency and continuity so that everyone can anticipate what's next.
Enriched Environment – DVD
It's a fine line between an enriched environment and a cluttered one. One stimulates learning, the other distracts from it. This DVD explores room design, color suggestions, how to walk the line between enrichment and clutter, and how to organize multiple resources.
Being There – DVD
"Being There" experiences are the best, and easiest, way to jolt the brain into creating new connections for learning and wiring it into long-term memory. See how you can incorporate them into your classroom.
LIFESKILLS: Creating a Class Family - DVD
Research conclusively shows that building a sense of community in the classroom accelerates learning as well as social/personal growth. Join this two-teacher team and their 60 students, grades 4–6, for a look at what a multi-age HET/ITI class family looks like and how to create one in your own classroom.
Writing Procedures – DVD
Written procedures are the flip side of the daily agenda. The daily agenda is unique to each day; written procedures describe the social and personal behaviors needed for re-occurring events such as morning and end of day procedures, group work procedures, what to do when you finish your assignment early, lunch room procedures, quiet time, etc.
________________________
Classroom of the 21st Century - DVD
by Robert Ellingsen
Observe an ITI/HET fourth-grade classroom where all curriculum content and skills are orchestrated around a yearlong theme. Hear students speak for the power of the model. (50 mins. DVD) $14.95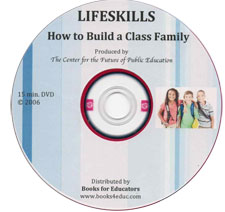 LIFESKILLS: How to Build a Class Family- DVD
by Susan Kovalik & Associates
"LIFESKILLS: Building a Class Family in a HET Classroom" takes the viewer through activities in a multiage classroom of 60 fifth- and sixth-graders with teachers Joy Raboli and Karin Janik. It demonstrates some of the foundational pieces of creating a class family, such as the Lifelong Guidelines, LIFESKILLS, class meetings, and learning clubs (15 min. DVD) $12.95
________________________
Divide and Conquer: Division in a Day - DVD
with Martha Kaufeldt
When the learning environment is brain compatible, something as "hard" as long division — concept and computation — can be mastered in a single day. Follow a fourth-grade teacher as she takes 50 students, grades 4-6, through an unforgettable day of conquering long division. (55 mins., includes manual) $19.95
________________________
Jacobsonville-DVD
Few disagree: Learning by doing is the most powerful way to learn. Behind the vocabulary, doing creates meaning, comprehensive and in-depth.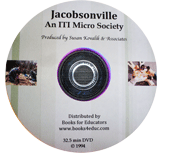 Behind the rhetoric, doing builds the capacity to use what is understood in real-world ways—as students and as adults and citizens.
The HET micro-community, as depicted in this video of Jacobson Elementary, provides a realistic and comprehensive experience in self-governance, civics, economics, entrepreneurialism, and community service. Not an add-on, the HET micro-community is a deliberate and strategic means of using real life to integrate curriculum and make it come alive for students, regardless of language or socioeconomic status.
If you're looking for a way to significantly boost student engagement and achievement scores, learning and living in a micro-community is your fastest and most direct pathway.
A companion how-to book by Dr. Terri Patterson is due out this fall. $12.95